Moderator: sonic
I know what i want for xmas
tachikoma1.wmv
tachikoma2.wmv
Or on youtube
How awesome is that?
Joseph Cambell wrote:Myths are public dreams, dreams are private myths.
Why drink and drive when you can smoke and fly ?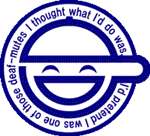 yea a lot of cool new figures coming out in hte next 8 months..
if you haven't yet..
be sure to bookmark
http://www.takotech.net/mshp/
is an awesome source for up and coming GITS stuff..
Posts: 221
Joined: Tue Mar 28, 2006 1:57 am
Location: The dark dark woods where the kitten monsters live....or happy la la land, my summer home.
wow, I want!!!!!

That is too cool. Any word on pricing?
"Life is as dear to a mute creature as it is to man.
Just as one wants happiness and fears pain, just as
one wants to live and not die, so do other
creatures." - His Holiness The Dalai Lama