Why drink and drive when you can smoke and fly ?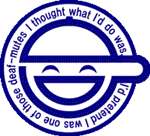 Posts: 359
Joined: Fri Mar 09, 2007 12:41 am
Location: The chopper you never saw, behind the gun you never heard, about to fire the shot you never expected
Contact:
LMAO...

It does have that quirky sort of 'so not-human it hurts' look about it doesn't it...
[MKFC] [BFC] [NINf] [BID] [TMDDFCA] [LMFC]
Beware the Left Eye
In the Major we Trust...